I wish I had something important or profound or even interesting to post today. I don't. It's not that my life is boring. Quite the opposite. Maybe that's my problem. I'm too busy.
I have had 3 major projects to complete in my writing. Two are done. The third will be done in a couple of days and by then there will be two more to do.
We now have four gardens in our yard. Four very dry gardens. Last year was so wet and this year it is so dry. And of course the bugs love the dry weather. (And there are those we love the wet so you can't win.). I have treated the bugs organically with diatomaceous earth. Sure hope it works.
The outside of my house is getting painted. I'd post a picture but it is only partially done. But wait, maybe you should see what we are living with.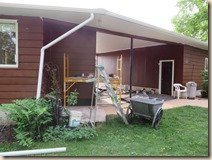 I'm looking forward to having it done. BTW f you note the dandelions, their presence is intentional. They (whoever they are) say that destroying dandelions threatens the bee population so I'm doing my best to ensure future generations have a food supply.
Hubbie and I also helped our daughter shear alpacas this week. A new baby alpaca was born while we were there. Here is my granddaughter admiring it.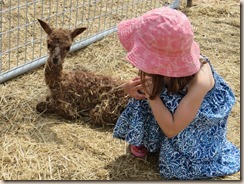 So although I have nothing important and wise to say, I can't say my life is boring. Summer is always super busy. It's like we want to pack as much living into a few months as possible.
I hope your summer is also busy, interesting and fun. What makes it so for you?