My Feb. book is available for preorder on Amazon. I love the cover on this book.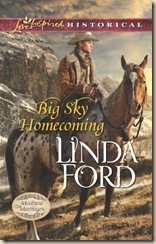 What do you think?
This is the third and final book in the Montana Marriages series—the story of the three Bell sisters.
There's even a Valentine scene. How much more romantic can you get than a cowboy on a beautiful horse against the backdrop of mountains and then picture him with a valentine.
Unfortunately it's not out until Feb. Sigh.