I just learned this week that I have reached a milestone in my writing career.
25th book:
Winning Over the Wrangler by Linda Ford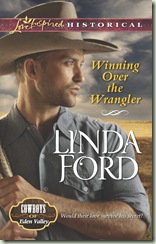 It also happens to be one of my favorite books to write so that's nice. I had thought I'd do something special for my 25th book but it sneaked past me without me realizing it.
The next bit of news–Harlequin featured a page Choose your cowboy
store.html-cid=622492&om_rid=ByCIGM&om_mid=_BTQ3VvB85MBHpg
Travel to another era to meet brave and daring wranglers from days gone by…
Under historical cowboys are two of my titles. Yah.
Historical Cowboys
Last bit of news: I am working on a new set of stories in the Cowboys of Eden Valley series. This week I also did final line edits on Big Sky Cowboy, the first in the Montana Wedding miniseries.
This is what the hard copy looked like. Each tab represents a page with a correction or change on it. Each has to be entered in Track Changes of the on-line manuscript.