That's good. No, that's bad.
Maybe you've heard this story before.
The Story of the Taoist Farmer
This farmer had only one horse, and one day the horse ran away. The neighbors came to console over his terrible loss. The farmer said, "What makes you think it is so terrible?"
A month later, the horse came home–this time bringing with her two beautiful wild horses. The neighbors became excited at the farmer's good fortune. Such lovely strong horses! The farmer said, "What makes you think this is good fortune?"
The farmer's son was thrown from one of the wild horses and broke his leg. All the neighbors were very distressed. Such bad luck! The farmer said, "What makes you think it is bad?"
A war came, and every able-bodied man was conscripted and sent into battle. Only the farmer's son, because he had a broken leg, remained. The neighbors congratulated the farmer. "What makes you think this is good?" said the farmer.
Truly, blessing turns to disaster, and disaster to blessing: the changes have no end, nor can the mystery be fathomed.
From the website:
http://www.noogenesis.com/pineapple/Taoist_Farmer.html
I've been thinking of this topic a lot this week. The idea seems to fill my life. For instance, I'm a published author. I had deadlines. I have contracts. That's good. No, it's bad because it's now a job. I have to write whether or not I feel like it. Knowing my stories are under contract is good. But, no, it's bad because it's hard work to write every day. And sometimes after weeks and months of putting myself at the desk, shifting words, ideas and events around to create a STORY, it is more work than I want to do. But as I'm often reminded–what plumber likes his job every day. Yet he still shows up.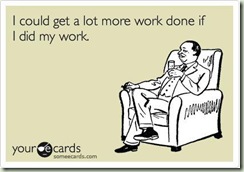 As Jeff Goins says in his blog at http://tinyurl.com/47fqp9e
"The difference between good writers and bad writers has little to do with skill. It has to do with perseverance."
But this it's good, no, it's bad idea can be applied at a micro level too. My friend and fellow author, Carolyne Aarsen http://www.carolyneaarsen.com/Carolyne_Aarsen/Welcome.html shared an idea with me. I can't tell you where she got it but I've found it very helpful in developing a scene. You take events and go through the it's good, no, it's bad routine. I found an excellent site that describes it. First, they use a children's book as an example.
You can find the book here: http://tinyurl.com/a86mhum
They also provide a worksheet that is helpful.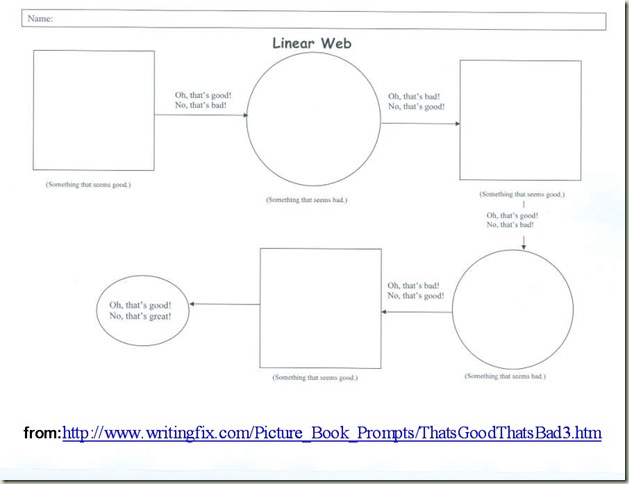 This chart is not mine. You can find it on the site:
http://www.writingfix.com/Picture_Book_Prompts/ThatsGoodThatsBad3.htm
One thing this has taught me is there is good and bad in every day, and every event. I can choose to dwell on the bad or find the good and enjoy it. I hope you choose to do the same.