Finally. It seems like forever since I sat in a roomful of writers. There is just something about sharing space with people who get what I do, what I struggle with and the nosiness of my imagination.
We attended a workshop with Michael Hague.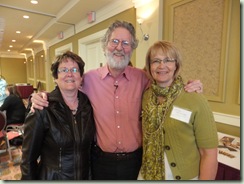 Here are Carolyne Aarsen and I with Michael Hague at the CARWA (Calgary Romance Writers of America) workshop.
He goes through the outer and inner journeys. Teaches us how to take our characters from identity to essence. This is a bookmark he gives out to attendees so we can practice what we learned.

I first studied MH's methods via a set of CDs –The Hero's Two Journeys. (Available on Amazon.) I listened to the CDs over and over and made notes. Being the world's slowest learner, it took time to understand his method of breaking down a story…or is it a method of putting together a story? I've tried to implement his structure for years. Whether or not I've done it successfully is uncertain.
A couple of years ago, I attended a workshop he taught at ACFW. So this is my second workshop. I think I'm finally getting it. Well, at least good enough to recognize the story I recently started work on is not as clear in my mind as it needs to be. So I will work on that this coming week.
I am so thankful for all the teaching helps and instructors who understand story structure and are willing to share their knowledge. I can't imagine where I'd be if not for the help I get from studying books, listening to lectures and taking courses.
For more about Michael Hague, check out his website.