TOO MUCH OF A GOOD THING?
Can you have too much of a good thing?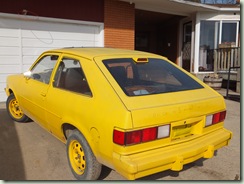 For instance, I love yellow. But is this too much? Look closely. The rims, the bumper, even the door handle are all painted yellow. (On the back it reads: '0-60 in 5 min. No problem.' Ha ha.)
Snow can be beautiful.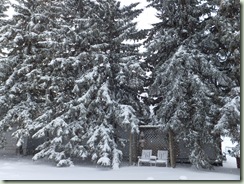 But after months and months of it, it becomes a trial.
How much conflict is too much? Is it ever good a good thing? There is a quote, 'If we both agree on everything, one of us is unnecessary.' I guess that means a certain amount of conflict is not only inevitable, but necessary. But we know too much conflict is damaging and discouraging.
I've been thinking of conflict and tension in my stories. How much is too much? According to Donald Maass, most manuscripts he sees are not dramatic enough. It's as if writers (me included) are peacemakers. This might be good in real life but it isn't honest in a story. The reason we are peacemakers is because there IS conflict. Without conflict there is no reason for a story. Stories are about character growth and change, or at least about finding the murderer, solving the mystery…all of which involve conflict.
Some good articles on conflict:
http://www.musik-therapie.at/PederHill/Conflict.htm This article deals with various levels of conflict.
http://tinyurl.com/bs4843w The author says, 'Conflict is what makes a story worth reading. Without a struggle, a moral choice, tension, and opposing forces, a story would be nothing but a boring discussion of facts.The struggle and change of your protagonist is what makes a story a story.'
http://www.aliciarasley.com/artexternal.htm Alicia Rasley talks about how to structure external conflict. Her sight has many valuable resources.
Now back to my manuscript. I must see if I can increase the conflict in it.