I had trouble sleeping last night. I smelled smoke so I got up to investigate. I found nothing in the house. Saw nothing outside but the smoke was not my imagination so I got my husband up to check further outdoors especially the feed stacks. Nothing on our property was on fire. Turns out someone closer to town was burning something. Fine. So long as he keeps it on his property.
I have had far too many experiences with fire. I escaped a burning school when I was 7 years old.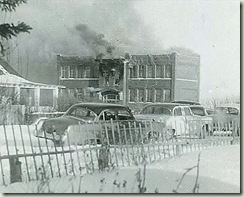 The school burned to the ground. I remember going to the place after it was all over and the ashes had cooled. the only thing standing was the chimney.
I saw it all as a child standing out in the cold of a bitter winter day. I cannot imagine the panic of the parents as the fire bell sounded and they looked outside. This picture was taken from my parents' house. (I never had an excuse to miss school because of bad roads!). To see the school engulfed in flames must have caused a rash of near heart attacks.
I think there were a lot of nightmares following that fire. For me, I repeatedly dreamed I opened a drawer and fire burst from it. The flames were in technicolor.
I kept worrying because our coats had been lost in the fire. Would we have to go through the winter without proper coats? That fall my mother had made over a big gray furry coat to fit me. Everyone thought I was sad about losing the furry coat my mother had made. It wasn't THAT coat that concerned me! However, a close family friend gave his coat to my mother and she made me another. What could I say? I could hardly confess I felt like a big dog or a small bear in the thing. So I wore it bravely. I didn't outgrow it for two winters. (Ah the memories!)
That wasn't the end of my fire experiences. We had a massive fire on our farm. A spark from an exhaust pipe on a truck started some hay bales on fire. And it quickly spread into the massive stacks of feed. It roared uncontrollably, eating up the winter supply of feed, the corral fences, some out buildings and heading for the barn. The house would be next. Every neighbor from near and far came to help. The Special Areas (think county) sent out cats (not the animal variety) to push the fire away from the buildings. Water tankers showed up and brought water. We lost a lot but not our house and barn for which we were extremely thankful.
There were other fires–a field of barley exploded into flames one hot dry fall. A heat lamp in the chicken house started a fire. Of course there were no men in sight and myself and a young son had to form our own bucket brigade. There was the time one of the children forgot to burn the garbage and the next day decided to do it without being reminded.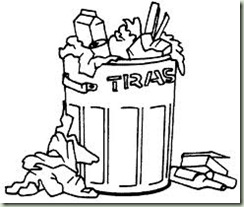 A nice thought only a wind that almost took the hair from your scalp had come up. The burning barrel was covered with screen but the youngster wasn't careful and the fire escaped, caught in dry grass and raced toward the house, veered and headed up the hill toward the line of machinery ($$$$$). The wind shifted and it headed the opposite direction, down the road, through a dry slough bottom. I thought it would burn right to the highway five miles away but volunteers and fire trucks showed up and dowsed it. Whew.
So am I paranoid about fire? You bet I am. And I will lay awake all night if I feel threatened by one.