According to Wikipedia a mug shot is A mug shot, mugshot or booking photograph, is a photographic portrait taken after one is arrested.[1] The purpose of the mug shot is to allow law enforcement to have a photographic record of the arrested individual to allow for identification by victims and investigators. Most mug shots are two-part, with one side-view photo, and one front-view. They may be compiled into a mug book in order to determine the identity of a criminal. In high-profile cases mug shots may also be published by the media.
But no, I haven't been arrested. My face is not going to appear in newspapers throughout the country. I'm talking about another kind of mug–the kind you drink coffee or tea from.
I cleaned one shelf in my kitchen cupboards this week–the mug shelf.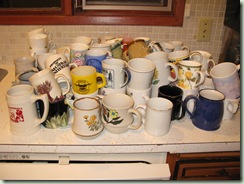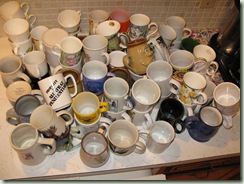 Those are the mugs from my shelf. How many do you think there are? (Besides way too many!) Andy why so many? I'm guessing they must breed and multiply when I have my back turned.
Some of the mugs are too special to part with.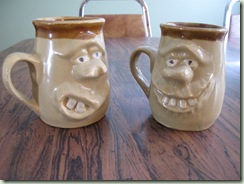 These are among my favorite morning mugs. Don't they look like the perfect mug to have your first cup of coffee from?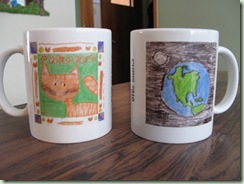 There are mugs featuring drawing of my grandchildren.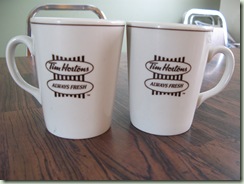 Mugs from the best coffee chain.
My husband is a John Deere man. Nothing runs like a deer. And we have to have mugs to support our brand. Though I doubt they need anything more than our money.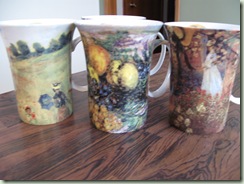 And because I'm a Monet fan, I enjoy my collection of mugs with his work featured. Don't you think they would brighten your day?
Am I the only one with favorite mugs? Mugs that multiply? Mugs you hate to part with? I did manage to clean out about half the mugs in my cupboard and will give them away.
Did you guess how many were in my cupboard? 70. I know. I'm shocked and embarrassed.