Spring has come. I know it because I measure spring by the blooming of my Mayday tree and it is in full bloom (Too soon it will be done but until then I enjoy it.)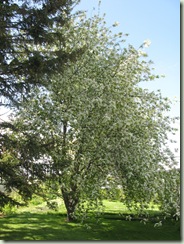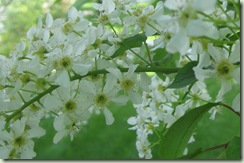 There are so many things to enjoy too. The scent that follows me all around the yard and by bringing in some cut branches, I can enjoy it while sitting at my computer.
The sight, of course. All I see when I look out the bathroom window is flowers. I see it from my kitchen window and from the patio. In fact, from almost anywhere in the yard I see it.
The birds love it. The branches seem full of birdsong.
And then something totally awesome…when the wind blows, it 'snows' white petals, depositing them like confetti everywhere.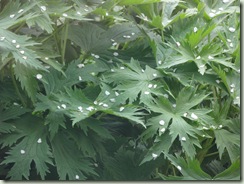 It's lovely.
The tree bloomed late this year because of the cold spring but I don't care so long as it blooms. Which kind of reminds me of my writing week. I did not meet my deadlines (the word count I planned to reach by Sat.) but I got a significant amount done. I will finish the story a little late. But it will get done and that's what matters.