Yesterday I got my author copies of my Klondike gold rush story.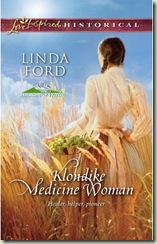 This is the middle book of a editor-generated series about the Klondike Gold Rush on 1898. It was fun to write with the two other authors and fun to research.
Each of these books stands alone but there are elements that bind the three together…like a gold treasure.
My story: (available in May)
Dr. Jacob Calloway was the answer to her prayers—whether he liked it or not. Teena Crow is desperate to learn his scientific healing methods to help her people. But Jacob is too suspicious of Teena's native remedies to allow her near Treasure Creek's clinic. So she decides to earn his respect—and teach the good doctor to see beyond surface differences to their common goal.
But it's not just Teena's medicines that render Jacob uncomfortable. Her warm gaze and determination dare him to open his heart. But can their fledgling love weather a town's disapproval, or the secrets they both hide?
Story #1–available now: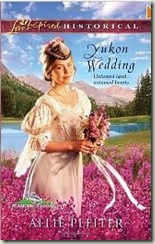 A gold-rush town is no place for a single mother. But widow Lana Bristow won't abandon the only home her son has ever known. She'll fight to remain in Treasure Creek, Alaska—even if it means wedding Mack Tanner, the man she blames for her husband's death.
Mack sees marriage as his duty, the only way to protect his former business partner's family. Yet what starts as an obligation changes as his spoiled socialite bride proves to be a woman of strength and grace. A woman who shows Mack the only treasure he needs is her heart.
Story #3–available in June: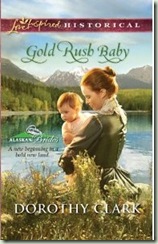 She didn't come to Alaska for its gold. Viola Goddard is seeking something much more precious—a fresh start. Now, entrusted with the care of an abandoned baby girl, Viola is finding new purpose and joy. And when missionary Thomas Stone is injured while saving little Goldie, Viola insists on nursing him back to health. What she mustn't do is confess her growing regard for his strength and gentle compassion. Her shameful secret could destroy his ministry. Unless this little gold rush town can give them both a chance to heal, to hope and to trust.
The covers are beautiful and the stories compelling. Be sure to get this series.