I love the wonderful things research turns up.
In the story I was working on recently, I wanted my characters playing a board game that several could play together. The time period was before the invention of games like Monopoly so I turned to the internet to discover what games were popular in the 19th century. To my surprise and delight, I found the information easily.
The first board game commercially produced in the United States was The Mansion of Happiness. A game based on Puritan values, the object is to be the first to travel around the spiral track to reach the Mansion of Happiness in the center of the board. If you land on the virtuous attitudes such as honesty, temperance, truth, sincerity, to mention a few, you advance six places. However, landing on and possessing such vices as cruelty and ingratitude you must return to your original position. And should you–heaven forbid–get into a passion you will take to the water and have a ducking to cool off.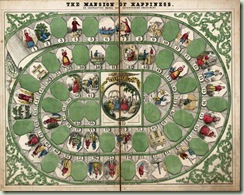 Here is a picture of the board used for the game. (Picture from wikipedia)
What I found really amazing was how the game fit into my story and could be used not simply as a diversion but as a means for the characters to discuss some of their problems.
If you're interested in how it works in my story, you'll have to wait a bit. This is the third story in my Buffalo Gals of Bonners Ferry series and I have no release date for them yet.