There is nothing like babysitting two sweet little girls for four days and then having some kind of unkind stomach flu hit me to make a week vanish. Very nasty flu. In fact, for the first time in my life, I fainted. Weird. I came to outside the bathroom door wondering where I was. I felt around and realized I was on the floor. My first thought was it was kind of comfortable. Maybe I'd just stay. My second thought—following several minutes later–was someone was likely going to trip on me in the dark. So I staggered back to bed.
I'm fortunate. I only have a scrapped forehead and a few bruises for my adventure. But it is great research material (that I don't care to repeat).
But on a cheerier note–check out my free on-line read. A cowboy story released one chapter at a time over 20 days. http://www.eharlequin.com/articlepage.html?articleId=1566&chapter=1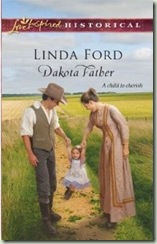 In part, the story is promotion for my January release–Dakota Father.
To see the two girls I babysat, follow this link and figure it out. I hope the link will work for you. You likely have to hit CTRL and click at the same time. The pieces are fairly large but there is a clicker on the upper left hand side to make it smaller. Have fun.
http://www.jigidi.com/solve.php?id=SS7LHRBZ