REFRESH YOUR SOUL Part 3–journals
I love nice journals. The other day I went to the Levenger web site (http://www.levenger.com/) to browse their lovely offerings. They sell Circa notebooks that come in a variety of styles. These notebooks are very versatile. The coils are actually buttons so you can rearrange pages at will.
How cool is that?
They offer other journals too. I mean, how can you resist a journal called 'contemplations journal'? Doesn't it make you want to sit down and jot down important thoughts?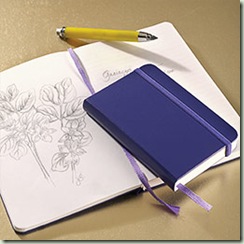 But that is part of the problem with expensive journals. It seems you should save them for something really notable.
One of the best known journals is the Moleskine journal. This one has been used by many famous writers and artists like Hemingway.
A few years ago I bought a small, purse-sized one at an airport.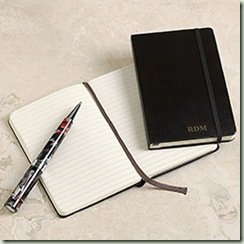 But I found I couldn't jot down messy ideas and thoughts so it has remained largely unused. I pulled it out the other day and decided if it was for noble, quotable words then I would use if for that and started to write down quotes I have collected. They have no particular subject matter. Just things that caught my attention.
'What I need is a woman who marries me for my money but is really bad at math.'
"God promises to preserve us from evil but not pave over every pothole in life's road."
"In the 60s the hippies took acid to make the world seem weird. Now the world is weird and people take prozac to make it seem normal."
"If Jesus is NOT God there is no life in Him. If He is the Son of God there is life in no other."
Australian artist Bill Meyer: Every thought is a seed. If you plant crabapples, don't count on harvesting Golden Delicious.
Capturing these little nuggets and rereading them is a great way to stretch and refresh my soul.
By the way, you can catch me guest blogging this weekend at http://petticoatsandpistols.com/. Everyone leaving a comment will be entered to win a copy of my Christmas book, Christmas Under Western Skies. Pop on over and leave a comment.