CAROLYNE AARSEN-CRITIQUE PARTNER
You probably can't get a group of writers together with the topic of critique groups and/or partners coming up. There are all sorts of articles on-line about critquing–what it is, how to do it, etc. http://www.writing-world.com/links/critique.shtml
I'm guessing that it means different things to different people. Some groups meet every week or two and read over every word their members write then offer feed back. At the other end of the spectrum are those who do more brainstorming than actual critiquing. That would be where my friend, Carolyne Aarsen, and I fit.
I met Carolyne at a romance writers' conference in Calgary. Neither of us were published. Both of us wrote inspirational romance. The next time I met her was at a Christian writer's conference. Both of us had just published our first book with different publishers and were ecstatic about having crossed that invisible line.
We soon discovered we had lots more in common. Both of us live in a rural area. Both of us have fostered children. Our friendship grew slowly but steadily over the next few years. Soon we were doing more than sharing news of new contracts. We were sharing fears and frustrations. Then we began to appeal to each other for help on our stories. I consider her help invaluable. Even more, we've attended numerous conferences together and gone on a similar learning journey so we have a common language and understanding of story.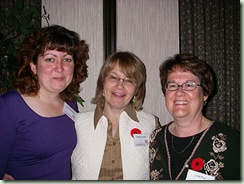 Here we are in a conference in Calgary with Michelle Beaty from Edmonton.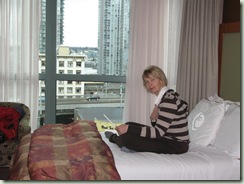 Here is Carolyne at a workshop we attended a couple of winters ago in Vancouver. It was a pleasant break from Alberta winter.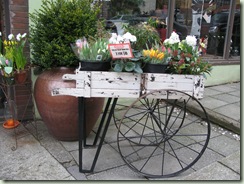 Yes, we both live in Alberta but about 4 hours apart. Thank goodness for the telephone and email.
I have never counted the number of workshops and conferences we have attended together and been roommates at. It would be interesting and challenging to see if I could.
With Carolyne working at her desk while I am, many miles to the south, working at mine, makes me feel connected to a larger world than that within my office walls.
I was thrilled to pick up her latest book the other day.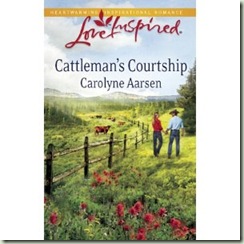 I remember her struggles to get this story right. We often tore ideas apart and rebuilt them. So it is a real pleasure to read the finished product and see how beautifully it turned out.
This is what the back cover says: Reunited with The Rancher. Veterinarian Cara Morrison is planning another walk down the aisle with her ex-fiance–except she isn't the bride and rancher Nicholas Chapman isn't the groom. With their best friends' wedding looming, the last thing maid of honor Cara wants is to rekindle a romance with best man Nicholas. But when he needs her help to unravel the illness that's descending on his herd, she discovers that the sparks between her and Nicholas still burn bright. Is it possible to heal the wounds of the past and start over with the cattleman she never stopped loving?
This story is a very good read. Pick it up while it's still on the shelves or buy it on-line at www.eharlequin.com