I'm presently doing research on Sitting Bull, the Battle of the Little Bighorn and the Indian Wars of the Great Plains.
I have visited the site of the Battle of Little Bighorn and saw the graves scattered across the prairie.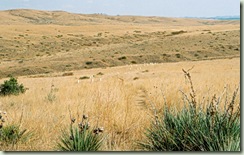 (The white markers in the first photo indicate graves. In the second photo, Custer's grave marker is the black one.)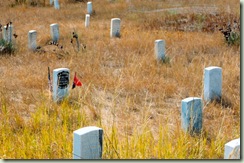 It's hard to find truly accurate information on the war over the western plains. Although many of the native tribes kept pictorial records they were mostly destroyed when their homes were burned.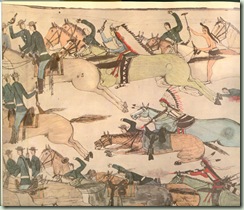 Yet some of the survivors gave us an account from their point of view. The picture to the left is a native depiction.
I found a book that did a fine job of showing the struggle for domination of the plains.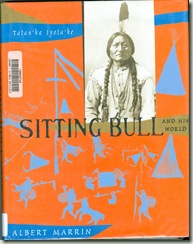 Sitting Bull and His World is written by Albert Marrin who has done his best to portray the events from both sides of the dispute. He especially looks at the life of Sitting Bull, the great Sioux chief. From a Lakota tribe of Hunkpapa, Sitting Bull lead is people wisely and bravely. He was a leader in out smarting General Custer at the Battle of the Little Bighorn. He escaped to Canada to save the remnants of his people. However, the systematic destruction of the buffalo left him watching his people die of starvation. He returned to America and submitted to living on a reservation. He toured with Buffalo Bill and they were good friends. Eventually, the government wanted Sitting Bull arrested and brought in dead or alvie. They blamed him for continued resistance from the natives. In a scrimmage with Metal Breasts (Indians with tin stars on their chest and authority to act as lawmen), Sitting Bull was killed in Dec., 1890. A short time later, the Indian Wars ended with the Battle of Wounded Knee.
It was a dark time in history especially for Native Americans.
My research has been interesting and full of fresh insights that I hope I can use in a future series. It also makes me think another trip to Montana for more research is in the future.