On our trip to the Yukon we took a ferry from Skagway to Haines. I read in one of the guides that you can look any direction in Haines and have a beautiful view. I was skeptical. After all, this was a tourist brochure, meant to lure in visitors.
But it is absolutely true.
We arrived via ferry and stopped for a picnic lunch at this beautiful site.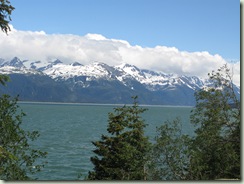 Thousands of bald eagles gather near Haines in the fall and winter. We were fortunate to see a pair nesting thanks to a  tour group who let us see them through their high-powered scopes.
Fort William H. Seward, the first American army post in Alaska, was built in 1902. The distinctive white buildings of the fort, now an arts and commerce community, makes for a stunning first view. And it's true…the views are everywhere. 
From the Fort buildings to the harbor to the skyline to the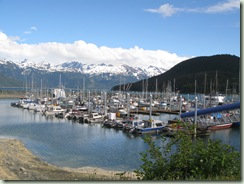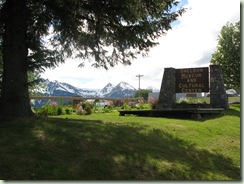 museum  where we saw how the mild costal climate has benefited the area. The long days of summer have made for some fantastic crops. A Mr. Anway grew fruit and vegetables. Strawberries as big as eggs, a record-breaking 100 lb cabbage.
I have to say it is as beautiful a town as the brochures proclaim. I anticipate using this for a setting of a future story. In fact, I might have to return to do more research.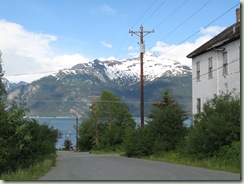 Anyone want to come with me and be my research assistant?