MY HISTORY MAKES WRITING HISTORICALS A NATURAL FIT
I am well equipped in some ways to write historical. No. It's not because I am a relic. It's because I grew up with a rich history.
I grew up in a very dry area known as the Special Areas of eastern Alberta. It was settled in the early 1900s. The towns thrived. Towns that are now, for the most part, ghost towns, had 35 or more thriving businesses. Many had a weekly newspaper, a movie theater and were busy, busy.
Then the dirty 30s hit. Many parts of the country suffered from the Depression and unemployment but the area in eastern Alberta suffered extreme drought. Many packed up and moved away leaving empty houses. Years later, we still find cellar holes and evidence of the people who once lived there—rusted bed springs, the fabric and stuffing no doubt carried off by either the wind or wild animals who used it to line their own beds. Tin cans that looked to have been opened with a pocket knife. Broken lanterns. Broken dreams.
Eventually the government took over the unpaid mortgages and abandoned farms and allowed people to take possession for the cost of back taxes. My father-in-law got his farm that way and worked off the taxes by driving school bus.
My own father worked for the Special Areas. That's similar to a county except it is under the provincial government. He drove a grader and built and maintained roads.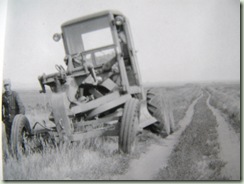 He taught us local history, showed us how to spot teepee circles, medicine wheels and Indian artifacts.  Here's an Indian hammer head and an arrowhead collection that my husband has found on the wind swept fields.
We also learned to spot fossils.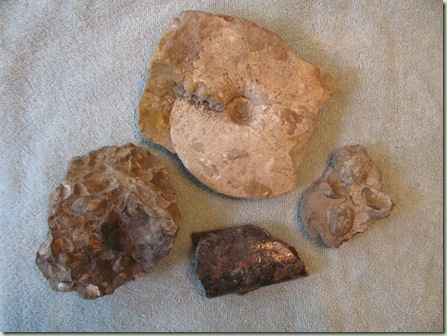 I loved exploring the empty cellars, wandering around a bunch of rocks that indicated teepees had once stood there. My imagination would conjure up the people who inhabited those now empty places. Of course, I did not realize then how I was stocking my brain to create works of fiction. If I had, I'm sure I would have paid closer attention.