Living on a farm means we always have cats around. They keep the mice down. However, my granddaughter, who loves cats, can't have one. So I gave her one of her own.

She was a cute, fluffy thing. Henceforth known as Fluffy. And yes a she.

A year later she had 3 lovely gray kittens.

The granddaughter was thrilled. The grandparents less so. Especially seeing they were all female. We negotiated. She could keep one kitten and the mommy. So this spring we have two batches of kittens. Four in each. That makes 8 more cats. So far I have two spoken for. The two mother cats share the kittens.

Here only one cat is tending them but usually they both do.

 
Anyone want a kitten? They are very cute.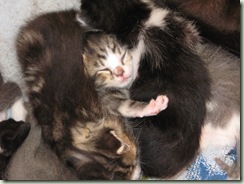 Are you wondering how cats are like a story? Let me tell you.
Stories begin with an idea. Like we began with one cat. The idea grows and develops. It breeds other ideas until eventually a full-blown story is developed. Hopefully it will be as cute or appealing (or something positive) as these babies. A story requires care and feeding. And I count on one idea birthing another.
Thankfully there are also differences that I appreciate.  I send the stories away. But then I hope to send some of these kittens away too.
Takers?