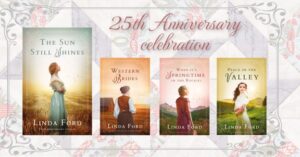 I am so pleased to be able to offer a collection of stories in the series Timeless Love Stories.
THE SUN STILL SHINES is the first book I ever had published. It's 25 years ago so I'm celebrating this anniversary by offering the book again in three formats–ebook, paperback and hardcover. The next in the series is WESTERN BRIDES–two novellas. One–THE BRIDE'S SONG–is the first novella I had published. It was released in a number of different collections. I am happy to have the rights back and am now able to offer it again along with a brand new novella–THE BRIDE'S JOY. Both of these stories feature heroines who have their preconceived ideas of love and security challenged.
The next book is the series is WHEN IT'S SPRINGTIME IN THE ROCKIES. This story emerged from the never-before-published archives buried deep within the files on my computer. I wrote it originally in the hopes of selling it based on the title which is also the title of a song. You can listen to the song on YouTube 'When It's Springtime In The Rockies' The lyrics hint at the story.
The fourth book is PEACE IN THE VALLEY, another never-before-published book from my archives. I really enjoyed writing and yes, editing this book. It contains so many of my favorite themes–motherless children, a determined young woman, a stubborn-yet-likeable man, and a trip to the mountains. I might even consider this the story of my heart. I won't tell you anything more about the story at this time but I hope you find it tugs at your heartstrings and fills you with peace.
You can all of these books here: