It isn't often that it happens but I had two books come out on May 1.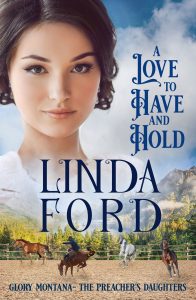 Josie is one of the Kinsley's adopted daughters. She was twelve when she was adopted so came with her own history. One she doesn't want anyone to know.
I have 10 adopted children. I'm sure many people believe that love is all that is needed to help and heal these children but unfortunately, it is not. Yes, love is important but children who are older when their homes are shattered, as Josie is, need tools to deal with their past. Even Walker, though he has not lost his family, has traumatic things in his past to confront. I have tried to portray this realistically without dwelling on the angst. If I can summarize it succinctly I would use the words of one of the characters in the story, a Mr. Jonathan Bates: Sometimes we hold things back from God's power. Things like unforgiveness and bitterness. Like blame and shame. Like an uncertain future, failing health, the pain of loss. We either want to cling to them or we don't think God can fix them. Folks, I'm here to tell you, there isn't anything God can't help you with if you let Him.
I'm not trying to say it's easy to forgive or it's over and done with if a person chooses to, but one needs to let go of some of the things of the past in order to move forward. You can't write a new chapter while still reading the old one so the saying goes.
This is the last story in the Glory, Montana: The Preacher's Daughters series. But it isn't the end of the Kinsley family. A new series–Glory, Montana: The Cowboys will be coming soon.
You can get it here: https://www.amazon.com/dp/B07NTYVSKN
The other book is a novella collection with three other authors–very talented ones. This series is about four mail-order brides for whom things go very badly wrong. I think you will enjoy this collection.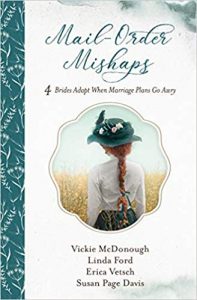 My contribution is Romancing the Rancher. It takes place in Broken Arrow, Montana in 1886.
Zach has his hands full with threats to his ranch, a rebellious younger sister and a father who wanders away and can't remember how to get home. The last thing he needs is a young woman showing up with a toddler niece on her hip informing him that he has agreed to marry her. First he heard of it.
Amelia was counting on the mail-order marriage to give herself and little Daisy a home. Zach isn't the least bit welcoming, saying he has no idea who she is. But he agrees to let her run his home until she can find another man willing to marry her. He soon finds himself counting on her help.
But who has written the letters pretending to be him? Will another man come along wanting to marry Amelia? Will these two people see what's right in front of them, that they belong together?
This was a fun story to write. I hope it is a fun story to read. You can get it here: https://www.amazon.com/Mail-Order-Mishaps-Brides-Adapt-Marriage-ebook/dp/B07HYLXXKF
I hope you enjoy both these books. Please feel free to leave a review on Amazon.