After an early snow and despair that the crops would ever be harvested, it is nice to see that the crops are now safely in the bin.
Harvest is a time of joy, anticipation and frustration. It's awful to see your income for a year still in the field as the days turn cold and wet. It's hard on the nerves when the weather is good but the equipment is broken and you're waiting for repairs.
But ahh, to see the swaths rolling into the combine, the grain filling the hopper…it's a wonderful feeling.
Recently I have been going through some old photo albums and found a harvest picture.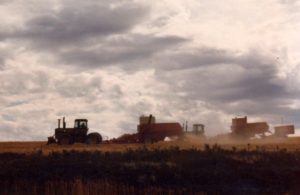 Other types of work have the same range of emotions. I often say about writing, the only thing worse than writing is not writing.