I am back from a week at the lake with some of my family. Most mornings I went out for a walk before the others wakened. Along one stretch of the boulevard, I discovered a beautiful display of cobwebs. (Not that I'm that fond of spiders.) One particular display caught my attention. Some were so intricately perfect. Like a finely crafted story.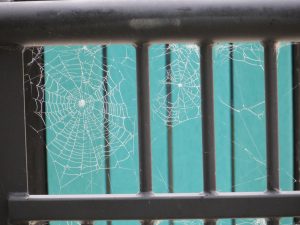 See the web on the right? That's how the story I am trying to revise looks. Full of holes and hanging precariously. I hope to take it to the perfectly crafted web on the left.
What do spider webs make you think of? (forget about spiders for a moment.) Plot? Life? Beauty?