ROMANCE OF THE CALGARY STAMPEDE
The year is 1912 and the hero of the story is Guy Weadick, a man born in New York. He ran away from his boyhood home to Montana where he learned to ride and rope and talk like a cowboy. Weadick considered himself to be 'half cowboy and three-quarters showman.' Along with other performers, he toured with a vaudeville troupe, barnstorming across the country and even performing in England.
Enter our heroine, Flores LaDue, the stage name of Grace Maud Bensell raised in Montevideo, Minnesota next to an Indian Reserve where she learned riding and roping early in life. At a young age, she ran away from home to join the circus. A talented athlete, she was famous for roping five running horses while lying down on the arena floor. It is said Guy fell in love with her the first time he saw the petite horsewoman (she was less than five feet tall) hanging upside down from her horse while swinging her rope overhead. Flores was a little more reserved about committing to the relationship. She was an independent woman with no interest in marriage. Nevertheless, she couldn't resist the handsome cowboy and they were married five weeks after being together. He was 21, she was 23. They were partners in a way that was unusual for that day and age. Guy treated her as an equal. After her death, Guy had these words place on her tombstone "A Real Partner."
Their story is told in this book.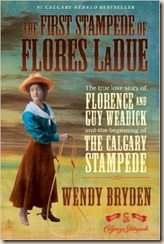 This book is available here: https://tinyurl.com/m8u3rs9
Back to the story of 1912. Guy was concerned that the cowboy skills of the West were disappearing as the flood of settlers increased. He approached the Canadian Pacific Railway livestock agent with the idea of staging a rodeo to preserve the old west. He talked some local ranchers into financing his venture and thus the Calgary Stampede was born. From the beginning Guy use this boastful brand that has continued to this day, 'The Greatest Outdoor Show On Earth.' Guy considered Flores the business woman behind this venture. He considered himself the talker—the salesman.
Guy was determined this would be a Big show—$20,000 offered for prizes, 200 imported Mexican longhorn cattle, 300 of the meanest horses, a replica of the notorious Fort Whoop-Up and many other wonderful offerings. He didn't want to leave out anyone and invited Treaty 7 First Nations to participate. The Stampede opened with a grand parade through the town. Among those watching the performances were the Duke and Duchess of Connaught and daughter, Princess Patricia.
Top North American cowboy and cowgirl performers came to compete. Mexican Bandit Pancho Villa even sent his best rider.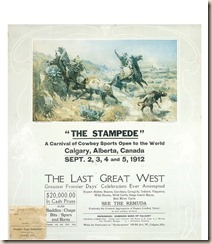 picture Courtesy of the Calgary Stampede Archives.
A number of women contestants participated alongside men in events such as steer roping and bucking horse competition.
One of the most exciting events featured a local bronc rider, a Blood Indian by the name of Tom Three Persons. He drew the bucking horse, Cyclone, a big black gelding that had rarely been ridden. People shook their heads and predicted that poor Tom was done. The horse exploded from the chute and bucked his best but Tom held on and won the most important contest of the show. The thousands of spectators erupted into a roar of applause.
Several competent trick riders gave Flores La Due stiff competition for the title of World Champion Trick and Fancy Roper but she won the prize in the end.
For some wonderful pictures of the Stampede and the people involved go to www.glenbow.org and search Calgary Stampede under the archived photos.
The Calgary Stampede continues to this day—still at tribute to the cowboy skills of the west.
My stories have never included the Calgary Stampede but do honor the cowboy life. My book, Montana Cowboy's Baby, is out in July. It is the third book in my 6-book Big Sky Country series. It's a story about a baby left on the doorstep of the hero with a note saying the baby is his. He knows it's not. This series is set in Montana—in case you didn't catch that—and features three Marshall young men, their sister and two close friends. Montana Cowboy Daddy was out in Oct. 2016. Montana Cowboy Family was out Jan. 2017. The fourth book—Montana Bride by Christmas—will be released in Oct. 2017. I am really looking forward to that story. It has many sweet elements. At least I think so. I've just turned in the fifth book and it's about Annie Marshall's friend, Carly, who is prepared to do anything to save her ranch and her home…including marrying a complete stranger. I'm hoping to be able to reveal the cover for this story in the very near future.