It's been a foggy spring off and on. I can't see very far.
It made me think of my writing 'method'. (Warning:avoid if at all possible). I begin with an idea. I develop characters and a plot. Well, sort of a plot. I know the beginning and the end. The middle? Not so much. In a synopsis, it reads 'stuff happens.' Of course, I make it a little more creative. It would read something like this: As the hero and heroine are forced to work together, they discover traits they admire in the other. As they share about their pasts and begin to confide in each other, they discover the pain in their hearts is healing. Or something like that.
Just as walking through the fog allows me to see what's ahead, pushing through the fog of the middle of a story, allows me to see what's happening.
Until I get to the point where I can 'see clearly now.'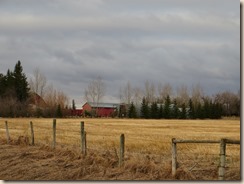 I'm hoping no one reading my books sees the fog!