We've had a looooong week of cold. I'm hoping it's winters last hurrah. It means being indoors a lot and someone in the house is bored with being shut in.
It's not me. I've been busy getting the fourth book in the Big Sky Country series ready to go. It will be on its way to the editor on Mon.
It isn't even the guy in the wheelchair. He's been sick, been in hospital and has been quiet at home.
No, it's Peanut.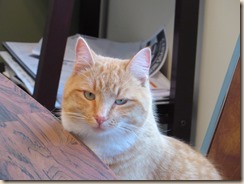 He's so bored he's begun making up his own games. He finds a string of beads, carries it across the floor and hides in beside the footstool and then he stalks it and pounces on it.
When he tires of that, he stalks the parrot. But he's cautious around the parrot and his sharp beak.
What he doesn't understand is that it's March and spring can't be far off. Spring. Flowers. Green grass. Going outside without bundling up.
I can't wait.