Every time I see this sign, I pause to wonder what it means.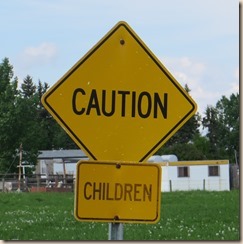 Is it warning against the dangers of having children. (too late). Is it to alert us that children might be lurking nearby by, ready to attack or annoy? It is said, Children at Play, I'd understand. I've even see a sign that says, Slow Children which makes me laugh. No child I've ever encountered was slow. They move with lightening speed and never get tired. Here's a little granddaughter out for a walk following her grandpa. He's only ahead because he turned around first. lol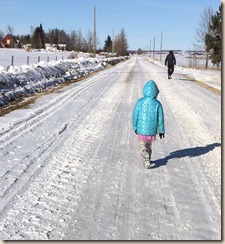 On top of that, they have such a refreshing view of life. I'm sure we could all come up with hundreds of examples but today I saw enough illustrations of children's creativity to refresh my heart. The local school has put the art work of K-Gr. 4 on display in various locations. These were at the hospital.
Don't you find these pictures amazing? I certainly did. The sign should say Caution: Talented children. Or Creative Children.