It's been a tough week. I don't want to talk about it and you don't want to hear about it so instead I am going to talk about my cat. His name is Peanut.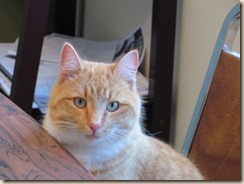 We've had him for two years. From the beginning he has been a character. Even when little he would rush out and grab people around the ankle. I put up a sign saying: WARNING:ATTACK CAT. People laughed and then screamed as he grabbed them.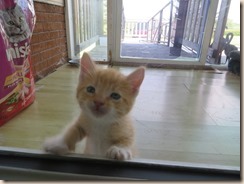 He loves to play. By the hour. It keeps the guy in the wheelchair occupied.
But most of it, he likes to sleep. And he has a laid-back attitude toward the world. But then what does he know about deadlines, and demands?
It got me to thinking about how we, as humans, forget to enjoy life. The words in the book, Jesus Calling, say it better than I could. I quote from that book:
'So many people dream of the day when they will finally be happy; when they are out of debt, when their children are out of trouble, when they have more leisure time, and so on. While they day dream, their moments are trickling into the ground like precious balm spilling wastefully from overturned bottles.'
So for today I am going to do my best to look for and enjoy each precious moment.