We've had a productive garden this years. Lots of potatoes, carrots, beets, beans, peas and tomatoes.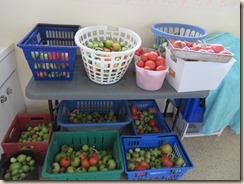 I picked the tomatoes while they were still green because of early frosts and simply put them in the laundry room and waited for them to ripen which they are doing nicely. What, you ask, do I intend to do with them? I'm glad you asked. Nothing too labor intensive. I freeze them. It's easy-peasy.
Wash them, cut them up and put on baking trays.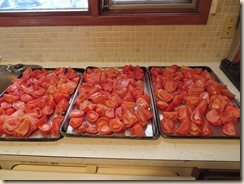 Roast at 350-400 for 1/2 to 3/4 hour until cooked and slightly browned.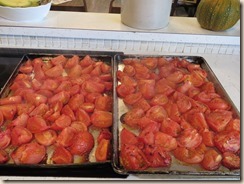 Salt generously. I like a coarse salt. Note: I've tried freezing both salted and unsalted and salted is far better. It preserves the flavor.
I then blend/puree them and freeze in freezer bags.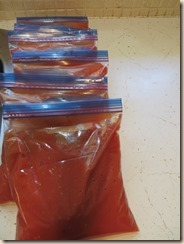 Lovely in soups or stews. Can also be used in sauces.
Just another day down on the farm.