My three year old granddaughter shows real talent.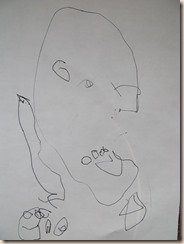 Pretty good. Right?
I believe everyone is born with creative talent. It might be in painting, writing, understanding math or mechanics. But something happens to most of us.
http://www.fastcocreate.com/1680919/the-7-biggest-creativity-killers
This article talks about creativity killers. In summary, the author calls them.1: the Control Crew 2: the Fear Family 3: the Pressure Pack 4: the Insulation Clique 5: the Apathy Clan 6: the Narrow-minded Mob 7: the Pessimism Posse
In short, we ourselves or our society or our teachers tend to kill our creativity.
But creativity is a muscle. The more you use it—in whatever direction it takes—the stronger it gets.
What creativity muscle or muscles are you exercising?