Excuse me. I meant no insult. But did it get your attention? Good. That's what I wanted.
Today I want to introduce you to me African Grey parrot named Scotty.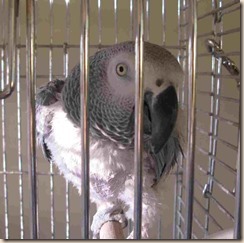 He'd be a handsome bird if he would stop picking his breast feathers out.
Oh wait. He is a she as we discovered when he/she laid 3 eggs a couple of years ago…at 27 years of age. (late bloomer?)
He is very protective of his cage and was even more protective when there were eggs involved. Littlest granddaughter was just beginning to toddle around and grabbed the bars of his cage to pull herself up. Before I could rescue her, Scotty had bitten her finger. Screams (from me as well as the baby), blood and 3 stitches. At that point I did not like Scotty one little bit.
However the bird has proved amusing over the years. He says a lot of words. Jerk, which is why I titled this blog that. He calls 'supper' when I'm in the kitchen (or when the smoke detector goes off. lol). He can say, 'I love you,' calls 'here kitty, kitty.' He loves to sing and whistle and dances to 'Rudolph, the Red-nosed Reindeer.'
The first magazine article I sold was about purchasing Scotty as a baby.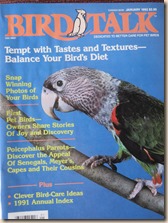 I got paid what I thought was a very nice sum for the story. The pictures accompanying it were in black and white.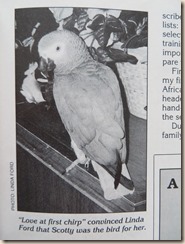 Somewhere in the cavernous cupboard in the basement I must have copies of the photos in color but I'm not going to look.
Pets are always a good subject for an article or secondary characters in a story.
Even when they call you jerk.