After a long LONG winter there is so much activity to pack into a few short months.
There is the garden (with which I have a love/hate relationship). I love the fresh veggies. Sometimes I even like working in the garden. But only sometimes. With the abundance of rain, the weeds have gotten a head start on much of the garden.
This picture represents hours of work but I'm hoping to get it under control this week…if it doesn't rain again.
But besides the promise of fresh vegetables, there is the present joy of lettuce (in a different garden which is practically weed free) and an abundance of flowers–especially daisies which in one of my favorite flowers.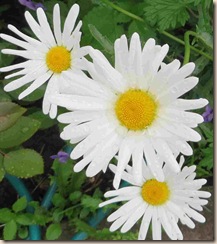 There are so many things I want to do during the sunny (it will be sunny eventually. Right?) summer days. Of course I still have writing to do.
See what I mean? So much to do. So little time. lol.