CLAIMING THE COWBOY'S HEART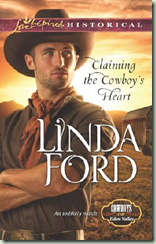 CLAIMING THE COWBOY'S HEART is out this month.
Just in case you're interested in how this story came to be (and even if you're not) here's some background on the story.
I wanted to do another three-book series in my mini series COWBOY'S OF EDEN VALLEY. I love working in threes. However the books are set in early ranching country when men far outnumbered women so I had to import women to romance the cowboys. Thus I created three young women who have recently come from England for a visit on the ranch.
Jayne—heroine in CLAIMING THE COWBOY'S HEART- is sister to Eddie Gardiner, hero of THE COWBOY'S SURPRISE BRIDE. She is fleeing the memories of her fiancé's death and brings two friends with her. She is determined to learn to shoot a gun in order to protect herself, but she didn't mean to accidently shoot a passing cowboy.
Seth, the unfortunate cowboy, thinks someone is after the money he is taking to pay the caregiver he's hired to tend his father who has had a stroke.
If I could pick an actor to play Seth's role in a movie, I'd want Russell Crowe. I suggested him to those who do the cover art for the book. What do you think? Is there any similarity?
Catherine Zeta Jones would play the part of Jayne in a movie version of the book.
Of course, Seth is not pleased about being shot even if by a pretty thing like Jayne. Will the delay mean his father's caregiver will leave? What's he going to do about Jayne? Guess you'll have to read the story to find out. Lol