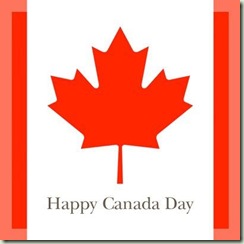 July 1, we celebrate Canada Day.
I am Canadian.
What does being Canadian mean?
1. It means we have two official languages and no I don't speak two of them. Besides the French and English there is whatever language people from Newfoundland speak. lol
2. It means speaking politely even when dealing with jerks. Or at least it used to. I don't see it as much nowadays and I have to say I miss it. I love seeing someone's chain jerked in a polite way.
3. To me, it means being fiercely Western Canadian. Feeling triumph when Calgary has Naheed Ninshi for a mayor and Toronto has Rob Ford.
The Globe and Mail on Mayor Ninshi's response during the flood.
Superman status was solidified last week when he buzzed home from Toronto as the Bow and Elbow rivers that run through Calgary surged over their banks and swamped the downtown and low-lying neighbourhoods – damaging the homes and livelihoods of thousands of his citizens.

He worked for 43 straight hours: tweeting, imploring, directing, assisting, cheering on and cheering up residents who saw homes ruined and possessions literally float away.

He was cheerleader, director, benevolent scolder.

Help your neighbours, he exhorted, be it with a shovel or a ride. Hug your emergency providers.

His new "home" became the back seat of helicopters or in front of news cameras. He provided updates several times a day – one in the middle of the night.

He used Twitter to get the word out. Well-wishers finally started a social media movement to get him to go home and take a nap.
As for Mayor Rob Ford…well, Google will give you the info.
4. It means Banff, the Niagara Falls and Vancouver Island.
5. I don't say aboot, I say about. I don't say ruff, I say roof. And yes, I say eh? a lot and I don't care.
6. Health care is universal. Yes, our system has serious flaws–many as a direct result of greed and selfishness–but no one has to choose between a life-saving procedure and something cheaper but less effective.
7. It means tolerance to different religions, customs and beliefs.
8. It means pulling together. The recent floods in Alberta showcase this. There were gangs of youth roaming the streets looking for people to help. Strangers, relatives and friends showed up in droves and shoveled out basements and took down sheet rock walls. Even Mrs. Harper, the Prime Minister's wife, dug into the muddy debris. Cheers to every one. You are all heroes.
9. Then there's the weather. Extremes every direction.
I could say more about being Canadian but I must go clean up debris from last night's storm–wind, rain, thunder and lightning. 1 8/10″ rain in 20 minutes and did I mention rain????
10.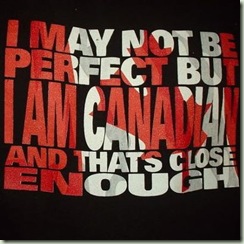 Happy Canada Day!