Just for fun, the other day I decided to track my writing. It was a day when I had ambitious goals. I wanted to write a lot. (I won't confess how much exactly).
To work.
5 minutes later, phone call re shingles (both houses need to be reshingled after last summer's hail storms).
Back to work.
5 minutes later. Doorbell rings. Get up and answer it. It's someone for client. Go get him up.
Almost get back to work.
Shingle guy here to look at houses and show me samples. Go outside and look at both houses. Tramp through wet grass.
Almost back to work.
Someone wants to discuss what shingle guy said.
Back to work brainstorming. Trying to find the candy bar in the scene. This comes from a blog How I Went From Writing 2,000 Words a Day to 10,000 Words a Day http://tinyurl.com/8xth7mn The author talks about the scenes which are fun to write. She calls them candy bar scenes. Not all scenes can be so sweet but I try and find the sweet thing about them so they become candy bar scenes.
Client in to tell me his friend is moving.
Client called from his room- do I have a safteypin to fix his pocket
Back to work. Actually write 885 words
Lunch
Help son with his computer. Try to figure out why his is networking with mine when I don't want it to.
Go to town to get a belt for the lawn mower.
1:45 back to work
1:50 help set mower level.
1:55 back to work.
2:05 Client calls from his room. Catheter plugged. Bed soaked. I change catheter and start laundry.
2:25 back to work did another 307 words
2:36 Neighbor calls and wants to go for a walk. I know the exercise is good for me.
3:15 back to work-
Break for coffee and talk to hubbie about various things.
ARRRGGGHHHHH. Some days are diamonds. Some days are NOT.
4:00 back to work. In the last hour I did 1550 words for a total of 3299. But it took all day to do the first half. Go figure.
In the end I did achieve a decent amount but I can't help

thinking how much I could get done if it was possible to eliminate all the interruptions. I know it's not so I soldier on.
I contemplate leaving the house to write and sometimes do. But mostly I try and work around my life.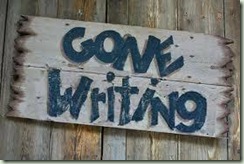 No doubt my life is not unlike most people's. Life is often simply more complicated than we'd like.