THE THINGS I HAVE TO FIND OUT!
I'm amazed, amused and grateful for the Internet and all the information out there. It certainly makes checking facts as easy as a click of the mouse. I know I have to verify the information but it's still so readily available. It almost makes my shelve and shelves of research books unnecessary. Not that I'm about to get rid of them. Gasp!
In the book I worked on this week I had to find the sort of hand gun a person would use in the 1880s. I chose a 44Colt Army Revolver because according to Wikipedia, "More than 200,000 were manufactured from 1860 through 1873. Colt's biggest customer was the US Government with over 127,000 units being purchased and issued to the troops. The weapon was a single-action, six-shot weapon accurate up to 75 to 100 yards, where the fixed sights were typically set when manufactured. The rear sight was a notch in the hammer, clearly visible only when the revolver was cocked."
(picture from Wikipedia site)
I had to research when bullets were first used and how to teach someone how to shoot a gun. All information I found on the Internet in a matter of a few minutes.
Yes, I've shot a gun. I know how. My father taught me and I spent many hours shooting gophers. You want proof? Here it is. You can tell I really liked the red-neck sport. lol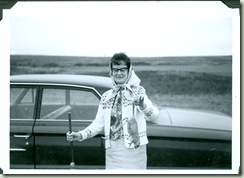 Do you enjoy the Internet? What things do you like using it for?