A guest blog and a chance to win a copy of my Jan.book THE COWBOY'S SURPRISE BRIDE.http://tinyurl.com/cmyarwr
For those who aren't on Facebook here's a picture of a sunbow I saw the other day. It was beautiful (the picture doesn't do it justice)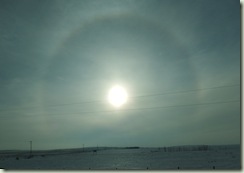 And now as promised, a short story for Christmas. I hope you enjoy it.
A Christmas Be-Attitude
"I wish they'd turn off that stupid Christmas music," Judy said.
I stopped in my tracks and stared at her. "How can you say that? I love Christmas music."
"You love everything about Christmas."
"I do." I turned around and filled my senses with the colorful decorations in the mall, the hustle and bustle of people, the bright wrapping paper and the cheery music. "It makes me feel so good."
Judy rolled her eyes skyward. "Gag."
I pulled her to a two-seater table in the food court. "Sit. We need to talk." I grabbed two coffees at the nearest booth and returned to the table. "Okay, now tell me why you hate Christmas."
"It's so commercial."
"We live in a commercial world." I leaned closer. "What's the real scoop? Do you have bad memories of Christmases past? Did your Dad beat you, and it was worse during the holidays? Did you have to sit and watch other kids with lots of presents while you had nothing? Did you have to watch all the Christmas movies over and over?"
Judy laughed. "You've been watching too many soaps."
"Well…"
"No, Miss Nosy, I'm not hiding a history of dreadful Christmases. It's just too much work. Too many expectations. Too much of everything." She waved her hand to indicate the bulging shopping carts and people rushing past.
I sat back and thought of her words. I'd heard the same thing so many times in so many ways from too many people. "But how can it be too much when you consider what it means?"
"Are you crazy? What does this have to do with what Christmas really means? What does the humble birth of Christ have in common with this blatant materialism?" She grabbed her lone bag. "I can't stand any more. Let's get out of here."
I followed her, my heart feeling as overloaded as my arms.
I tried again as we drove away. "Look, I might be crazy but I think the most important thing about Christmas is to express the joy it signifies. Can you imagine how it must have felt that first Christmas to know that God bent toward earth and released his power into our presence in the form of a tiny baby? I get shivery just thinking about it. God among us. Come to save us from our sins. Wow. It makes me want to do something big. Bake. Shop. Decorate. Sing."
Judy groaned. "You've always been a bit strange."
"I can't find enough ways to express my joy."
"Yeah and shopping does it?"
"You bet. Every time I pick up something red and shiny—"
"Like those pajamas for your father?"
I chuckled. "No silly. Like the string of lights. Everything is so—I don't know. It's like the whole world and every little detail gushes with something that reveals God's love. Even the warmth and softness of my Dad's pajamas."
She stopped in front of my house. "Judy," I said, remaining seated. "Why don't you let yourself go? Enjoy the season. Let it be an expression of joy."
"In your dreams. See you tomorrow at church."
Dismissed, I climbed out. Somehow I had to find a way to help her find the joy behind what she saw as mundane, or added responsibility.
I thought on the idea all night, and the next morning. I prayed for some blinding brainstorm, but by the time I sat down in the church sanctuary I had come no closer to finding the something I wanted. Listening to another sermon on the evils of materialism didn't help. Oh, don't get me wrong. I agree that materialism is wrong. But when it comes to Christmas it's not the buying that makes it wrong—it's the attitude. You can enjoy celebrating the joy or you can be consumed by the greed of it all. Or as in Judy's case, resent the pressure.
I thought I might find a gift that would show Judy how I felt. In an import store there was a beautiful crèche scene made from clay and all hand painted. But despite its appeal it was too much like our argument. Yes, it showed the 'real' meaning of Christmas but she would view it as yet another purchase. I wanted to help Judy find the real meaning in the ordinary, the unexpected, even the commercial.
The day we met for our weekly coffee date, a children's choir sang in the mall. One little boy grabbed my attention and I dragged Judy back to see.
"That boy over there. Look at him."
"He's a cutie alright but he really needs a haircut."
"That's not what I want you to notice. Look. He's so enthusiastic. Like he's got a big lot of joy inside and he can't sing loud enough or long enough to get it all out."
Judy crossed her arms over her chest and turned to me. "Is this where you say that's the meaning of Christmas?"
"Yes." Several people turned to stare at us. "Yes," I repeated softer.
"You're right. Listening to a choir sure beats shopping. Or baking."
I sighed. "You missed the point."
"That being?"
"Christmas isn't found in what you do. It's all about joy because of God's gift. The real meaning is found in how you do something and why you do it."
Judy squinted at me. "Next, you'll be saying that shopping can be just as much as an expression of joy as singing."
"You're getting it."
"You've been inhaling too much pine scent."
"I'll find a way to make you see what I mean," I vowed as we moved away.
"Good luck."
I was beginning to think I'd have to accept defeat despite my desperate prayers when Judy phoned me.
"Can you come over right away?" she asked.
I knew by the tone in her voice that something dreadful had happened and I hurried to her house. I barely made it to the door before she began.
"He's gone too far this time." Her voice choked with tears. "Look at this."
She dragged me out the patio door. I gasped. A large branch had fallen across her beloved fountain.
She cried as she picked up the broken fragments of the little porcelain girl who had held a watering can that poured out water. "My mother gave it to me the last Christmas before she died." She glanced toward the fence. "He did it on purpose."
I'd noticed the saw marks on the butt of the branch. "Oh, Judy. I'm so sorry. Come in out of the cold."
She allowed me to lead her inside and pour her coffee.
"I will never forgive him."
I held her icy hand. Mr. Ross, the elderly man next door, had made a nuisance of himself for months despite Judy's repeated attempts to keep the peace.
"It's hard to forgive something so deliberate," I said. Suddenly, I saw how to explain Christmas as I saw it. "Becky will be soon be home for the holidays." Her daughter would be arriving in two more days.
She finally smiled. "I can hardly wait." She sobered. "She'll be so sad about the fountain."
"Poor Mr. Ross is so alone since his wife died. Why don't you send Becky over to spend her holidays with him?"
Judy's chin dropped so far it almost hit the tabletop. "Are you nuts? I wouldn't send my worst enemy over to keep him company."
"What if you were the worst enemy?" I asked softly.
She scowled at me.
"Isn't that what Christmas is all about? God's Holy Son spending thirty years of His life with His enemies in order to make them His fri
ends? Isn't that reason enough to celebrate Christmas in every corner of our lives?"
She stared at me a long time. Finally, she spoke. "You are something else. I don't know what to say to you." She laughed. "Yes. When you put it that way, it is plenty of reason to be filled with joy." She bounced to her feet and hugged me.
Judy will never be a marathon shopper, or a mega entertainer, but this year, she laughed and smiled the whole time she did her Christmas preparations. She bought small meaningful gifts for her family. She baked a massive amount of sugar cookies.
"I'll never be into recreational baking," she said, as she passed me a plateful of her cookies over coffee a week before the big day. "But I figured even I could make one special thing."
She took a plateful, nicely wrapped in tissue, over to Mr. Ross along with an invitation to the Christmas Eve service at church.
He took the cookies but didn't show up for the candlelight service.
"Maybe next year," Judy said then turned to join the congregational singing of 'Silent Night.'
Later, she whispered in my ear, "My cup overfloweth."
Tears trickled down my cheeks. Mine too, dear friend. Mine too.