HOW DO YOU REFRESH AND RECHARGE?
I had to go to a nearby city the other day. BY MYSELF. Yes, it's a rare treat. Shopping is not my thing. Really. But watching people is. Plus this mall has lots of visual stimulation.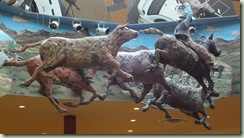 There is western style art throughout plus a monument to the 4 Mounties of the Mayerthrope slaying.
What truly amazed me were the activities in the large food court. There was the usual reading of newspapers but I saw people reading both books and electronic readers. A number of people played electronic games. I saw two people working on a jigsaw puzzle. At another table three people played cards. A group of 10 or 12 had pulled tables together and passed notes back and forth–some sort of business meeting? What is this? A new form of community center? Why, for instance, make a jigsaw puzzle in the food court rather than at home? Are people feeling isolated? Perhaps as a result of so much on-line social networking. Maybe they simply want to see other humans. I don't know.
One thing I do know. There is certainly something invigorating about working in such an environment. If I lived closer I would spend a few afternoons there writing and editing.
A sign at one of the juice bars said it all.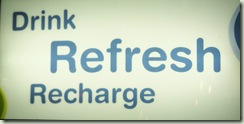 There was something very refreshing about sharing the afternoon with a bunch of strangers.
Go figure.