Summer fun.
First Annual Summer Fun Day to be exact. There was family, food and fun. And perfect weather.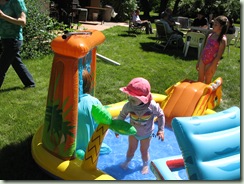 Is there anything nicer than barbecued hamburgers eaten outdoors? Or playing tag in the sun? Or sitting around a campfire in the evening laughing and visiting with family? These are the kind of memories we hoard up and take with us in to winter.
What are your favorites ways to spend summer days?