April 29 proved beyond a shadow of a doubt that everyone loves a good romance. People from all over the world either went to London or watched on TV the wedding of Prince William to Catherine.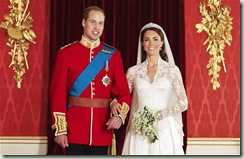 A fairy tale wedding for certain.
It reminds me of why I love romance and love to write romances.
Because everyone likes a happy ending.
I believe everyone deserves a happy ever after even tortured heroes and heroines, even difficult heroes and heroines.
In a romance evil is overcome, love triumphs, broken hearts are made whole again
In a romance, hope is restored…hope that life can go on and get better and be worth the struggle.
I can express my belief in goodness, virtue, and the power of a man or woman, or both, to change their lives for the better and perhaps, in a small way, improve the world. ."Stories are light. Light is precious in a world so dark."?~Kate DiCamillo
Romances are a celebration of human connections and the power they have to motivate men and women to better things.
Romance stories have the power to move the heart, fill us with hope and encouragement. Non-fiction speaks to the head; fiction to the heart and romantic fiction does it better than most genres."It's better to write about things you feel than about things you know about." – L. P. Hartley
I love getting to know my characters and watching them grow and change to overcome their problems so they are now ready to embrace love.
Doesn't everyone deserve a little hope and affirmation that life can be good despite the challenges? That's what a good romance offers.
"Life isn't about waiting for the storm to pass, it's about learning to dance in the rain." Source unknown. I hope my romance stories help people learn to dance in the rain.