This week I read a book by one of my favorite authors– Madeleine L'Engle. I confess I don't like her most famous book, A Wrinkle in Time. But I read Meet the Austins and enjoyed it. This is a story about four children growing up in a big, old, drafty house.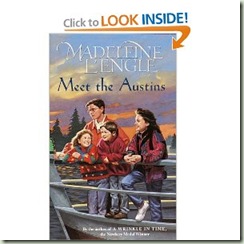 I think it is the same house we learn to love/hate in her journals–The Crosswicks Journals.
There are four of these journals and I like A Circle of Quiet the best.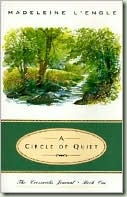 Here is a quote that gives you a taste of the sort of thing she talks about. "Cooking is the only part of housekeeping I manage with any grace; it's something like writing a book: you look in the refrigerator and see what's there, choose all the ingredients you need, and a few your husband thinks you don't need, and put them all together to concoct a dish. Vacuum cleaners are simply something more for me to trip over; and a kitchen floor, no matter how grubby, looks better before I wax it."
Madeleine was born in New York City in 1918. Her mother was a pianist, her father, a writer, a critic and an foreign correspondent. She said he suffered lung damage from exposure to mustard gas during WWI. Others claim his illness was due to alcoholism.
She wrote her first story at age 5 and began keeping a journal at age 8. I think she wrote 102 books in all from journals to children's stories to books of poetry.
The family moved to a 22-year-old farmhouse called Crosswicks in rural Connecticut in 1952.
I think what I really enjoy about her journal writings is how they reveal her character and give her life meaning.
She also has some lovely quotes.
• Inspiration usually comes during work, rather than before it.
• We can't take any credit for our talents. It's how we use them that counts.
• Artistic temperament sometimes seems a battleground, a dark angel of destruction and a bright angel of creativity wrestling.
• A book comes and says, "Write me." My job is to try to serve it to the best of my ability, which is never good enough, but all I can do is listen to it, do what it tells me and collaborate.
• That's the way things come clear. All of a sudden. And then you realize how obvious they've been all along.
• We tend to think things are new because we've just discovered them.
• We tend to defend vigorously things that in our deepest hearts we are not quite certain about. If we are certain of something we know, it doesn't need defending.
• I share Einstein's affirmation that anyone who is not lost on the rapturous awe at the power and glory of the mind behind the universe "is as good as a burnt out candle."
Do you, or have you, read Madeleine L'Engle's books? Which ones did you enjoy and why? What other books about writers and their writing do you enjoy?