My research trip took me to Yellowstone National Park. It's a beautiful place but visitors be warned. The roads are narrow and clogged with traffic. Drivers stop suddenly in the middle of the road to look at buffalo or elk or moose or the strange formations created by the hot springs.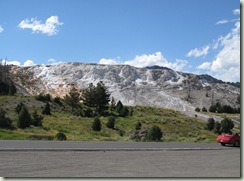 This picture is of Mammoth Springs on the north side of the park and shows the white deposits.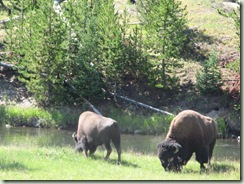 The most famous attraction is Old Faithful and we were fortunate enough to arrive just before it blew up a fountain of steam.
T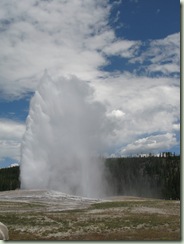 here must have been a thousand people circling the geyser and the oohs and aahs were the same as if they were watching fireworks. The show was as impressive!
But there were other sights (and long, curvy roads) to see.
The Grand Canyon of the Yellowstone and the falls were stunning. My wheelchair client was able to see them from the rim but couldn't take the long stairs down which didn't bother me in the least.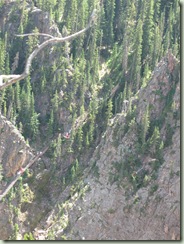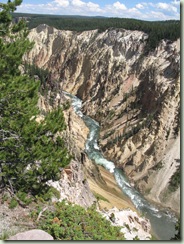 Yes, the picture on the right shows a long, steep stairway. Half an hour down, I was told, more than two hours back.
It is a park worth visiting and does have historical significance. The natives called in Yellow Rock. The Yellow Rock River has some famous tributaries–Bighorn, Rosebud, Powder. Many of the Indian Battles that we are familiar with occurred around these places, including the Battle of the Little Bighorn.