We had three babies visit us on Easter. It's amazing to have three close to the same age. Three learning to sit. Three soon walking (talk about having to baby proof!). And soon, three two year olds. Yes, that will be a fun time.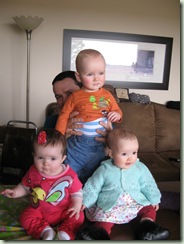 They are so different in physical build and in temperament. From day one they have exhibited unique characteristics.
It will be interesting to see how each will respond to circumstances and challenges in their lives and how their personalities will develop.
It's a living object lesson on developing characters for my stories. I need to keep in mind that people are born with unique personalities but from the day of their birth, they are shaped by family dynamics, events, illnesses, etc. I read somewhere that the factors that influence personality development are:
1.environment at home provided by parents
2.teachers
3.mental & emotional condition of mother during pregnancy
4.general physical &mental health of child
5.friends
6.timely corrective measures taken by parents & teachers
I'm sure we could argue this and/or add to it. I know I can think of others not included here–for instance, religious upbringing.
P 142 of this book has an interesting chart to illustrate the factors involved in personality development. Napoleon and history painting: Antoine-Jean Gros's La Bataille d'Eylau By Christopher Prendergast (Google it and you should get the book on line.)
One tool I really like to use is the enneagram personality typing. http://www.enneagraminstitute.com/descript.asp. Lots of good information on their site. 
I know  I am going to enjoy watching the personality development of  these three babies.