I spent 5 days last week in Denver, Colorado attending a conference. I had my camera but didn't take even one picture. I should have. The city is beautiful. We stayed at the Denver Tech Marriott. A walk down the street gave wonderful views of the mountains. They seem up close and personal.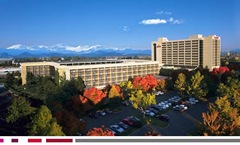 They drew me outdoors two afternoons to walk. I found some lovely paths through a park.
Before the conference began I had a chance for a quick tour of the Denver 16th Street pedestrian mall. Lots of interesting street activity.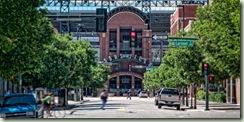 I would have liked to have more time to browse but unfortunately had to check in to the hotel and register for the conference.
The conference was good. In no particular order, this is what I enjoyed:
1. Meeting with the editor of the Love Inspired Historical line, discussing projects and plans and hearing her affirmation that she likes my writing and wants more of my books.
2. An all day workshop with Donald Maass–author of The Breakout Novel and Fire in Fiction. My brain was panting from all the information but his section on micro-tension really showed me how to make my writing better.
3. A workshop two full mornings with Susan May Warren and Rachael Hauck on finding and fixing broken places in the novel. Book therapy. www.mybooktherapy.com I learned so much.
4. Having dinner with about 20 noisy authors who also write for Love Inspired. Such fun.
5.Enjoying the great surroundings, great hotel and great food.
6. Sharing a room and spending time with my favorite fellow author, Carolyne.
7. Watching worthy authors receive awards for their books. Sort of an Oscars atmosphere. Fun.
8. Listening to Debbie Macomber. She spoke to the group (of about 500) three times. Each time was an encouragement and inspiration.
9. Being together with so many Christian authors and enjoying fellowship and support.
10. Getting home. Sigh. Home is always most welcome after a few days away.