I used to bake.  A lot!!. When the kids were at home I made cookies, bread, buns, cinnamon buns, pies, doughnuts, cakes… A lot. And then the kids moved away. Yes, a couple have returned and I am still cooking for 5 but somehow I got out of the habit of baking except for homemade bread. Until this summer when suddenly the bug hit me again. I made buckets of cookies for standby for company. I made saskatoon pies. It didn't take long. In fact, I wondered why I had been avoiding it. There is nothing to compare to homemade cookies, pies, cakes, etc.
Today I made banana oatmeal cookies. This is a recipe I discovered when I was job-training a mentally challenged young woman in the hospital kitchen. Each week we made cookies for those in long-term care.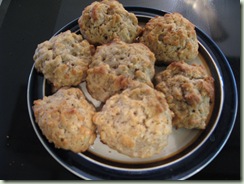 BANANA OATMEAL COOKIES
butter or margarine- 1 1/2 cups
sugar-2 cups
eggs- 2
mashed banana – 2 cups (about 4 bananas)
flour- 3 cups
baking soda- 1 tsp
cinnamon-2 tsp
nutmeg (optional)- 1/4-1/2 tsp.
oats–3 1/2 cups
Mix first 4 ingredients. Add dry ingredients and mix. Drop onto greased cookie sheet. Bake at 375 degrees until lightly browned.
HINTS: double the recipe. I always figure if I have the oven on I might as well bake a bunch. If you're short of time, mix the dough the night before, store in a tightly closed container and bake the next day.
Enjoy.