SPRING IS COMING? RIGHT? ASK THE BALD EAGLE.
Winter seems to have dragged on forever this year. I know it's only mid-March but I want spring. Now. I know it will come. As someone once assured me spring will come…if not this year, then next for sure. Unfortuantely, in some dark corner of my mind, along with neuroses and dire imaginations, lurks the fear that maybe it will be next year. So I look for signs. Any sign.
Unfortunately the ground is still under a thick blanket of snow so I don't see any hint of green grass, tulips poking through the snow, or even dirty brown soil. However, I do see puddles forming and water trickling down the sewer drains. Ahh. A good sign for sure.
And we no longer have more nightime hours than daytime. (Is that controlled by daylight saving time do you think?). In fact, it's light long enough in the evenings to now go for a walk after supper. Another indication that spring is on its way. And yes, I'm counting every possible sign.
But the biggest indication of all? Old Baldy sitting in the treetop. Have a look for yourself.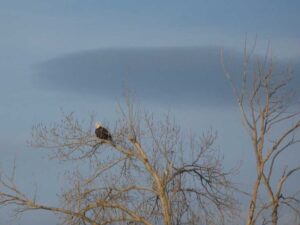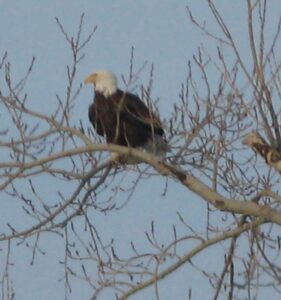 In the past we have had up to 7 of them hanging around eating carrion. Okay, I confess I am really grasping at straws here counting this fella as a sign of spring because I saw him for the first time March 1. I can't imagine what he thought when it dropped to -30 C. Nor can I imagine how he kept warm. No doubt he was grumbling and grousing about the cold weather just like the rest of us.
Oh wait, water is dripping off the eaves. A sure sign winter is dying. Looks like we'll see it this year for sure.