THE STORY BEHIND THE STORY
I am fascinated to hear how authors get the idea for a particular story. I can never quite remember how it all started. Usually the seminal idea is a little flash or a scene, one that often doesn't make it into the book but gives me a feel for the story. For instance I wrote a book Unchained Hearts (Also available in the recollection Alberta Brides) that began in my mind as a dream where I saw this scarred, withdrawn man hiding in a cave with a pretty young woman. She is trying to console him as he sits huddled in the opening of the cave looking out at something that fills them with trepidation. So I had to figure out this story and write it.
It's one of the few I can remember WHY I started writing it.
Except for the story to be released next week with Love Inspired Historical release. I had a contract for 3 books set in the Depression Era. I had only written one (The Road to Love). I came up with the second, The Journey Home. But I was near the end of the second story and still had no idea for the third when Emma walked on to the final pages of The Journey Home as Charlotte's new friend and bridesmaid. This is what it says in my book, "Emma had joined the hospital staff during the summer, and she and Charlotte soon became fast friends. Emma, practical to the core, seldom bothered to dress up. She usually kept her thick blond hair in a tight bun, as suited a nurse, she insisted, when Charlotte tried to talk her into letting I hang loose. But Emma had allowed Charlotte to have her way for the wedding and her hair hung in shimmering waves halfway down her back."
So I had my heroine. Now I needed a hero and into my computer leapt Boothe Wallace, a widower who is running from his life back east. Not for his own sake but because of his little son, Jessie. I immediately knew why because both my husband and myself have relatives who were born in the Depression and taken by friends because of economic circumstances. In both cases, the parents were powerless to prevent it as the courts considered such things as how many children the biological family had as opposed to the family wanting to adopt the child. As well, they considered the fact that the adoptive family was better off financially. This happened far too often and left permanent scars in the child and the family who lost their child. But it seemed a natural fit for my story.
I needed something to happen to Boothe's wife that would make him resent the medical profession. About that time I was visiting my daughter and son-in-law (who is a doctor) and we talked about medical mistakes in the 30s. While I was visiting, he received a medical journal that mentioned the history of quinine—guess what? The drug that was used widely in the 30s and caused death in certain cases. (I love synchronicity.)
I needed one last element—something that made Emma irresolutely committed to being a nurse to the exclusion of marriage. I again drew from my own experiences and the guilt one feels when things go badly wrong and one feels they are responsible for that bad event. I don't want to give any more details from my book on this matter because it is a secret that isn't revealed in the story until close to the end.
Doing research was also fun. Of course I had done extensive research on the drought and how it affected residents of the Great Plains but now I had to research medical things.
One books was Yes, Father, Pioneer Nursing in Alberta written by Alvine Cyr Gahagan.  
I don't remember where I found the copy I originally read but enjoyed it so much I wanted my own. I searched for it on Alibris and found a copy at a nearby city so didn't have to pay postage. And it's signed by the author. How cool is that? The book is full of personal details and specific details about nursing in that era. Some of the things she shares emphasizes the difficulties of the era. She mentions that a grateful mother had crocheted a bit of lace around a little hanky as a gift. The material used was a bleached salt bag. She talks about dressing a lye burn. Lye was used freely in making soap and bleaching the wide unfinished floorboards. Lye burns and scalds were too frequent as boiling water was used widely on washday or when rags were dyed for making braided rugs.
Dust Bowl Diary by Ann Marie Low was another excellent book.
The author mentions in an early entry that she went to the first talking movie then at the end of the book mentions a movie in Technicolor. She worked part time in a library for twenty-five cents an hour and considered herself fortunate. Under a 1931 entry she says 'The heat deaths in the country total 1,231. I mean humans. Lord only knows how many animals have died.' Her description of the conditions is heartbreaking.
I found a children's book that was excellent. It is part of the series Dear America and called Survival in the Storm, The Dust Bowl Diary of Grace Edwards.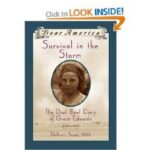 Her descriptions of how they made things from flour sacks and working as a volunteer in the hospital where people were dying from or recovering from dust pneumonia were so good.
My story was fun to write because so much of it seemed to fall into my lap—a gift.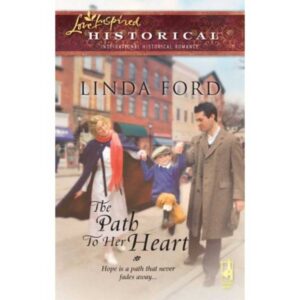 I hope you pick up my book or order it on-line and I hope you enjoy the story. I love to hear from readers about what they like about it. (Or didn't like so long as you're gentle about your criticism.)