Finally a post not about autumn (I hear great sighs of relief) though I can't promise I'm done with the subject yet. Especially if the fine weather continues. But I'm a writer and I haven't mentioned any writing lately. Not that I haven't been hard at it. I've finished the first, rough draft of a story that I hope to propose to my editor in the near future. I went back to the drawing board two or three times before I felt like the story had the elements I wanted in it.
My book The Journey Home is sold out at Harlequin/Silhouette. I don't know if it's still available at Amazon. Selling out is a good thing. Yes?
 Then I've been busy doing research for the next project after all that. I'm planning a series of books set in the Depression era again. This series, however, will be set in western Canada with unique elements. I'm enjoying the research mostly from books. I've found some wonderful first person stories. I just wish I had more time to hunker down and read.
Which brings to mind two things recently that were a complete waste of time. First, the movie Burn After Reading. I thought with Brad Pitt and George Cluny in it, it couldn't miss. I was wrong. It is without doubt the worst useless movie I have ever seen. Totally unsatisfactory. Though Brad played his role very well.
Then there was the writing workshop I attended yesterday. I haven't been together with other writers for months so I was really looking foward to it. I was hoping for some instruction and inspiration from a multipublished author. But it did nothing for me and again, I was disappointed especially at the waste of a whole day. The only saving thing was I got to see some friends and also, while sitting through the sessions, wrote in long hand the first chapter of my new Depression Era book. I'm excited about getting started on it now.
Here's Carolyne Aaresen and I at the workshop.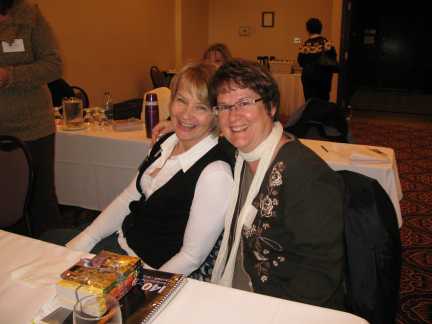 And I got to meet Allison Lyons, senior editor at Harlequin/Silhoutte. She was articulate and enthusiastic. I appreciate what she had to say. Here she is sharing her information.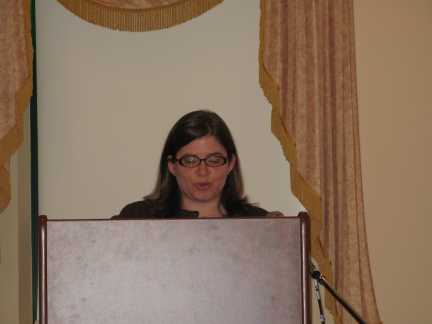 I'm now hard at work trying to get caught up after a day away. Okay, I'm not working THAT hard. But I should be.