In the interests of efficiency I have reduced as much as my life as possible to the basics. I want minimal furnishings and ornaments so I don't have to dust. I want no-care finishes. I want meals that can be made in less than 30 minutes. Yes, I'd be happy if they would invent self-cleaning toilets, windows, countertops and sinks. No, I'm not lazy. At least, not terribly lazy. (I don't think.)
So I'm looking for desperation dinners–meals made in 30 minutes or less. I'll go first.
Hamburger/ macaroni dish.
cook 3 cups of macaroni in a pot of water. (use amount of macaroni suitable for your family. This amount feeds 3 or 4 adults)
Meanwhile brown 1 lb. hamburger.
When it is brown add
1 can tomato soup,
1 can of milk
1 can of diced tomatoes
1/2 to 1 cup of salsa.
Drain cooked macaroni and add to hamburger mixture. Heat. Can be served as is or covered with grated cheese (cover and allow to melt). You can sprinkle on green onions if desired. Good served with hot bread and a salad. Good comfort food.
I guess I like to–and need to–reduce my story to a basic structure too–one that includes theme and a beginning, middle and end. Over the years I continue to amalgamate several different methods into something that works for me. I want bullets bits of description. I don't want details at this point, only a blink of information. Most of all, I need the overall structure and the whys and hows.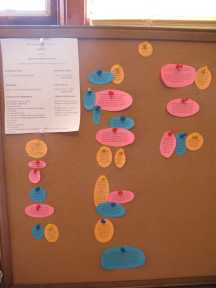 (picture of story structure using W plot, theme and a storyboard)
Pretty basic stuff. But it works for me.
Anyone out there willing to share fast meals–especially ones based on beef? Or cheese, macaroni, etc. The more basic the better.