There's nothing like a good cup of coffee
The cowboys on the Circle A Ranch drink coffee. They didn't always but Scottie, the old cook, was convinced doing so made them men. And what young fellow is going to argue with that?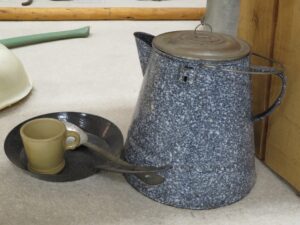 Some interesting facts about coffee gleaned from researching the subject:
It is second only to oil as the most valuable traded commodity in the world.
There is a popular Ethiopian legend that says coffee was discovered by a goat herder. He found his goats frolicking and full of energy after eating the red fruit of the coffee shrub. Curious, he tried the fruit for himself and had a similar reaction. Seeing the strange behavior, a monk took some of the fruit back to his fellow monks and they spent the night awake and alert.
It's rumored that Teddy Roosevelt drank a gallon a day of the brew and might even be responsible for the slogan 'Good to the last drop.'
And horror of horrors, there have been attempts to ban coffee.
This coffee ad has been brought to you by the fine folks in Adam–the story of a coffee-drinking cowboy.
Grace has come to reconnect with her brother, Sam, who left her in the orphanage when she was 10 so she could be adopted. He has written such lovely letters to her. She wants him to collaborate on writing a first-hand article for an eastern newspaper. However, Sam did not write the letters, Adam–one of the Circle A cowboys–did so, pretending to be Sam.
Coffee might get him going in the morning but it isn't doing anything to solve the problem of how to tell Grace the truth without destroying her faith in him.
You can find out how Adam solves his predicament by purchasing his book.