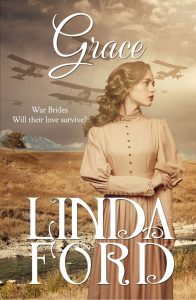 Grace is a war bride. She fell in love with Billy while he was recovering from a battle wound near her home in England and they married. But she is not prepared for the challenges of wedded life, let alone the challenges of life in Alberta, Canada. Even less, is she prepared for dealing with the risks her adventuresome, fly-boy husband takes.
And yes, there is a Christmas element to the story. Just when Grace thinks she can't handle anything more, the rug is pulled out from under her right at Christmas. She is faced with having to deal with more pain. Can she do it with God's help and the loving support of Billy?
I wish for each of you a blessed Christmas season. May you enjoy the reason for the season amidst all the hustle and bustle. To help you enjoy the festivities, I am including these pictures taken a few years ago at a writers' retreat at a Gaylord hotel in Nashville.